Turkey, France, Germany 2023 | 197 minutes |
Turkish | Subtitles in Hebrew, English
Nuri Bilge Ceylan, the director of Winter Sleep (2014 Palme d'Or), brings us back to Anatolia in this new film selected in official competition at the 2023 Cannes Film Festival. Samet, a young art teacher, is finishing his fourth year of compulsory service in a remote village in Anatolia. After a turn of events he can hardly make sense of, he loses his hopes of escaping the grim life he seems to be stuck in. Will his encounter with Nuray, herself a teacher, help him overcome his angst?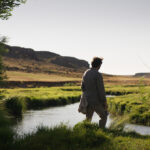 Director
Nuri Bilge Ceylan
Country
Turkey, France, Germany
Writers
Nuri Bilge Ceylan, Ebru Ceylan, Akin Aksu
Actors
Deniz Celiloğlu
Merve Dizdar
Musab Ekici
Production
Nuri Bilge Ceylan
Cinematography
Kürşat Üresin, Cevahir Şahin
Editing
Oguz Atabas, Nuri Bilge Ceylan